Worried Your Website Doesn't Have Enough Pages? 
You've experienced it before, you're browsing a website and find that there are so many subpages that you don't know where to go. Some are similarly labeled and you don't know which to click on to find the information you want. Before long, the frustration wins and you leave the website all together to go look somewhere else.
Having a website with your business' information is important, but you'll want to avoid annoying your customers with a barrage of confusing pages or even a lack of clearly defined pages. You'll have to find a good balance of pages for your business.
Here are a few things to consider when determining how many pages your website should have:
Quality trumps Quantity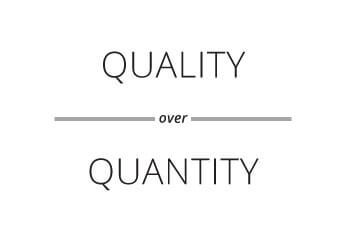 More often than you'd think, websites have an abundance of pages that are not helping customers find what they need. Every piece of information does not need to be on its own separate page and can be combined into a more general category.
So, instead of having a page titled "Hours," and one titled "Location," you can have just one titled "Contact Us." It simplifies the navigation bar and will remove how many times a visitor has to click to get the information they need.
The goal is not to have as many pages as possible, but to have an easily navigational website that makes sense. You want your site visitor to know exactly what information they'll get and not have to go to 3 different pages to find where you're located, when you're open and how to get in touch with you.
Overloading is something to avoid
While you don't want too many pages, too few can also be a problem. Overloading a page with too much text can overwhelm even the most enthusiastic reader. People don't want to hunt for information in script long enough to be made into a novel.
Keep text limited and don't be afraid of some white space. Breaking up text with graphics and pictures will also help make the text less overwhelming. While corresponding information belongs on a page, don't stretch it to encompass topics that shouldn't go together. If you are a restaurant, don't group "Menu" and "Our History" together on a page titled "About Us."
People will be confused on why they are finding that information on that page. Come up with clear guidelines for each page and what should be on it to avoid overloading it with information that should be on another page. This will help you establish how many pages you'll need to create to make sure everything is in a sensible place.
Who the Site is For?
Another thing to consider is who will be using the site. If the website is going to be used by the general public, it might need a different number of pages than a site used just by the employees of your business.
A business website just for employees might need pages spanning topics from vacation planning and time clocks, to complaints and tracking performance. While a website for the general public might only have five to seven pages covering the typical topics like about us and reviews.
What you need the website to do and for who may have a huge impact on how many pages you need. Just remember to consider who it is for and what function it is supposed to perform.
While there is no set number on how many pages a website should have, these three considerations should be kept in mind when you are planning a site.
Confusing a visitor of your site is something to avoid. Try drawing out your own thoughts for a site to get a general idea of how many pages you'll need. Aim towards making a simple website that makes sense and is not extreme (in either way) on page numbers.  
---
  Meredith Kisow is a senior at LSU majoring in Mass Communication with a concentration in public relations. Meredith enjoys reading in her spare time.   Work with Catapult Creative Media Inc. Catapult Creative Media Inc. is a digital marketing and design agency serving clients over the United States but is proud to call Baton Rouge, Louisiana home. Founded in 2007, Catapult provides digital, social and mobile marketing solutions backed by relevant strategy and measurable results. Catapult works the web to their clients' advantage, launching them to their next level of success.